LBPT Content
The Learning Business Procedures Test (LBP Test) measures learning ability, and the ability to read, understand, and follow written business procedures.
The LBP Test presents a candidate with a complicated business procedure in the form of written instructions and data tables. The candidate must apply the procedure to various situations. Applying the procedure requires simple addition and multiplication, using a calculator. Although the questions ask for answers in terms of dollars, it is understanding the procedure that is challenging, not the math.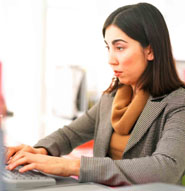 This simulation of business procedures is similar to everyday tasks that employees in many industries perform.
The LBP Test is a 35 minute, 30 question multiple-choice test.
We have created a simplified sample question to provide you with a sense of the test. The LBP Test features more rules and tables.